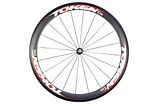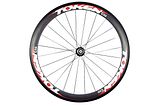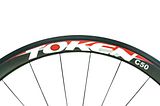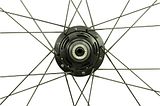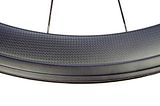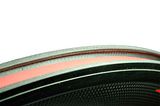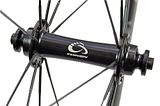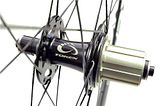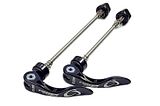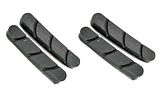 Professionally hand-built with Superlight black alloy hubs.
Spokes: SAPIM CX Ray Black Bladed Aero Spokes. Made in Belgium. The highest quality spokes available.
Rims: 50mm Full Carbon Clincher.
Rim Material: Professional grade monocoque carbon fiber construction for maximum strength.
Forged alloy cassette body easily changed between Shimano/Sram and Campy.
Precision-sealed EZO Steel Bearings
Matte flat carbon rim finish.
Extreme lateral stiffness & very lightweight. Perfect for time trials, triathalon, and climbing.
Includes: Alloy Black handle skewers.
Includes: 2 pair special carbon fiber rim brake shoes & carbon holders, spoke/hub tool, and extra spokes.
** NOTE: These rims require the use of included special brake pads & carbon holders provided or other brands designed for use with full carbon rims.
Rider weight limit: 90kg (198 lbs.)
SPECIFICATIONS:
Rim Size: 700c diameter
Rim Width: 21.7mm
Rim height: 50mm
Front Hub: TOKEN TK196F: 20h, 65 grams, 2 fully sealed EZO Steel Bearings

Rear Hub: TOKEN TK196R: 24h, 255 grams, 4 fully sealed EZO Steel Bearings

Front Spokes: SAPIM CX Ray & SILS Nipples- 20 black stainless bladed- Radial laced.
Rear Spokes: SAPIM CX Ray & SILS Nipples- 24 black stainless bladed- 2x laced drive.
Weight: 1550g/set (Front: 680g, Rear: 870g, (with rim strips installed), Skewers: 102g/set
For more information about SAPIM spokes: Sapim.be
Price: $1,424.95

$1,424.95 Shimano/Sram/ACCURA 3 in stock
$1,424.95 Campagnolo 2 in stock


| | |
| --- | --- |
| Manufacturer: | Token Products |
| In Stock: | Yes |
| Unit: | Set |
| Model: | TK9665AWT |
E-mail a friend about this item.